I am an academic working on the computational, philosophical and communicative aspects of argumentation in various domains, such as multi-agent systems and legal reasoning. Interests include the characteristics of argumentative dialogue protocols, the role of narratives in argumentation and analyzing argumentative discourse.
I am currently working at the Humanities Computing Department of the University of Groningen, the Netherlands. Until the end of 2012 I worked at the University of Dundee's Argumentation Research Group.
Real-time analysis
At ARG:dundee we have analysed various kinds of argumentative discourse, gaining new insights and perfecting techniques. This recently culminated in a real-time analysis of a 45-minute discussion programme (The Moral Maze) on BBC Radio. Here you can see a video of about 6 analysts working in parallel on a gigantic touchscreen. A picture of the final analysis can be viewed here.
Some time ago, I did an analysis of another episode of The Moral Maze about Nuclear Weapons. This took me about a week. You view the full analysis (PDF) by clicking on the picture below.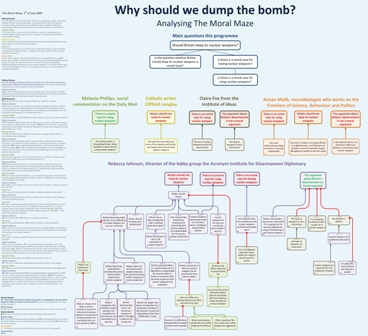 Computational Narratives Special Issue CFP
Together with Mark Finlayson, Pablo Gervás and Deniz Yuret, I am editing an upcoming special issue of Literary & Linguistic Computing on Computational Models of Narrative
We want to incorporate diverse work from a cognitive, linguistic, neurobiological, social scientific, and literary point of view. The special issue is open to any work where the researchers have successfully applied their field's unique insights to narrative in a way that is compatible with a computational frame of mind. We seek work whose results are thought out carefully enough, and specified precisely enough, that they could eventually inform computational modeling of narrative.
The full call for papers can be found here.
Arguments, Stories and Evidence
In 2009, I obtained my PhD degree at the Centre for Law and ICT in Groningen (the Netherlands), with a dissertation titled Evidence for a Good Story: A Hybrid Theory of Arguments, Stories and Criminal Evidence. A summary of my dissertation is available here. An edited version of the dissertation has been published by Springer (click the book to order).